D-1L Black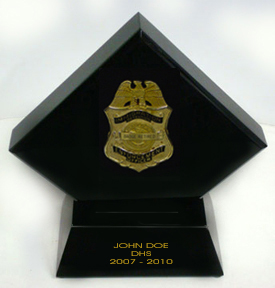 available in any D Style Size
Approximately 5" Square Top.
Base Is Approximately 5" X 5" X 1"
On Trap Base Style Only Now
Color Matches The Top Unless It Is Clear Then The Top Is Black.
Includes Colored Background.
Blue, Black, Red Green Or Clear.
Some May Be Cast Slightly Thicker To Accommodate Larger Badges.
Additional Pins & Medals Can Be Added.
Back to Single Badge Diamond Page
Call us at
800-554-6091
For complete details on creating your
Custom Badge Embedments