6 inch Broken Glass Cube Clear
beveled edges and cut corners
with white lettering (available with gold lettering)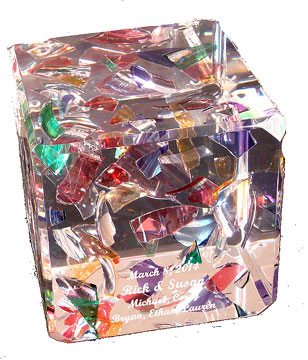 "Mazel Tov"
This symbolic act is in remembrance of the Holy Temple in Jerusalem.
The shattered glass reminds us of how fragile life is.
The broken glass can be kept as a memento of the wedding.
These Are Some Of The Most Beautiful Wedding Gifts A Person Can Give .
This Beautiful Keepsake Comes With A 1 Year Guarantee
Free Damage Repair
Regardless Of The Reason!
options are beveled edges, colored bottom, gold, silver or frosted laser engraving on front surface. Tax and return shipping are not paid by customer so the cost is a complete cost...

Delivery time is two weeks or less plus shipping time
Call us at
800-554-6091
For complete details on creating your
Custom Wedding Embedments